District Vehicle Inspection Station OSKP
---
The District Vehicle Inspection Station No WX/167 Łukasiewicz Research Network – Automotive Industry Institute is part of the Vehicle Tests Laboratory and works under Centre for Transport Safety and Vehicle Diagnostics.
We guarantee:
Many years of experience, knowledge and skills of our staff as well as modern diagnostic line devices guarantee the highest standard of services rendered.
---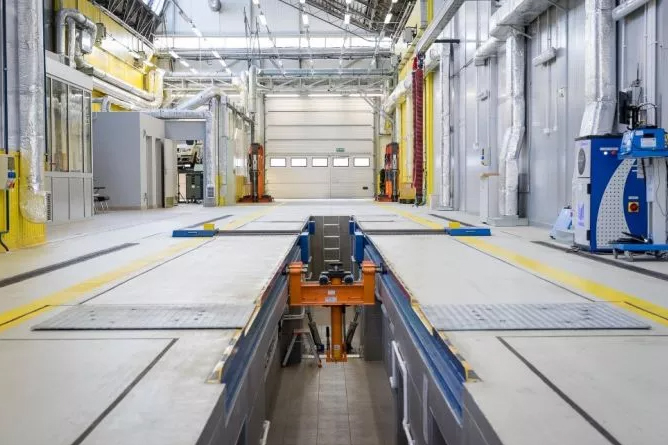 We offer a full range of technical tests including:
periodic technical inspection:
cars, trucks and buses,
motorcycles and scooters,
antique vehicles,
 farm tracktors,
trailers for the aforesaid vehicles.
first tests of vehicles imported from abroad,
testing of vehicles after construction changes
testing of vehicles adapted for LPG supply,
testing of vehicles adapted for TAXI,
examination of vehicles after an accident, road collision, directed by the Police or District Authority,
testing of vehicles adapted for driving lessons "L",
testing of emergency vehicles,
testing of vehicles adapted to tow trailers,
checking the correct operation of digital and analogue tachographs and tachometers,
placing assigned vehicles identification number (VIN),
making the vehicle nameplates.
In addition, we offer:
diagnostics within the scope of wheel alignment of vehicles: passenger, truck and bus,
measurement of vehicle floor plate base points (DMC < 3500 kg),
assessment of the technical condition before buying the vehicle, after an accident or road collision,
technical support for the staff of Vehicle Tests Laboratory.
---
If you want to arrange a review, have doubts about the interpretation of the regulations, you decided to expand your knowledge by participating in specialized courses, please contact OSKP Ł-PIMOT No. WX/167
Contact:
Dariusz Kaca
Telephone: 22-7777-083
Mobile: 661-537-909  
E-mail: dariusz.kaca@pimot.lukasiewicz.gov.pl